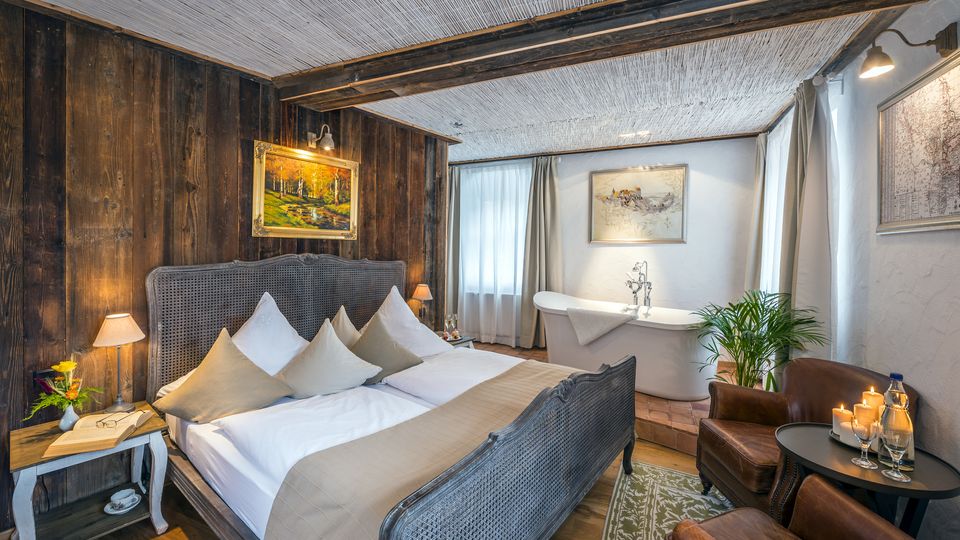 Wellness room Pinot Noir (Black Riesling)
Wellness room Pinot Noir (Black Riesling)
These rustic designed wellness rooms convince with their very own charm.
Each room is furnished differently and yet they all have some things in common.
Since wellness and relaxation are very important to us, the rooms offer you your own spa oasis.
Unwind with a hot bath or do something good for body and soul by using the infrared sauna.
A major advantage of this type of sauna is that the heat is not generated by heating the air,
but by the IR radiation hitting your skin.
Therefore, within a few seconds the heat builds up and can penetrate deep into your body, where it takes effect immediately.
Thus, joint pain and tension can be relieved in a few minutes.
Furthermore, sweating in the heat cabin eliminates toxins, boosts blood circulation and revs up your metabolism.
A stay in the infrared sauna also has a beneficial effect on the soul:
Similar to solar radiation, IR (infrared) radiation causes a release of endorphins.
Improvements in well-being can also be induced in the whirlpool tub.
The warmth of the water and the water jet massage relieve tension and ensure good blood circulation in the skin.


Your four-legged friends are in principle welcome but not allowed in every room from this category.