Hot-Spot: The Wine Route in Saxony
Wine & delight just as you wish
The Saxon Wine Route near Meissen takes you through the most beautiful parts of the Saxon Elbe Valley: charming and drenched in sun. It's an almost Mediterranean attitude to life – sprinkled with marvelous regional wines. 
From Pirna in Saxon Switzerland to Diesbar-Seußlitz, the Saxon Wine Route runs  almost parallel to the Elbe River Bicycle Path. Here you will find picturesque villages and tradition-steeped cities – and, of course, the magnificent landscape of the vineyards. The Hotel Goldenes Fass is located almost directly along one of the most charming parts of the Saxon Wine Route – directly behind Meissen, down the Elbe River, picturesque little villages await you.

55km of pure adventure along the Saxon Wine Route
Hike through the idyllic vineyards or discover the age-old traditions of the beautiful Elbe Valley on your bike. Take a break at one of the long-established wine makers, wine restaurants or rustic wine taverns alon the way. Where else does the wine taste so good, if not directly where the grapes are grown.
Enjoy a very special view of the vineyards while on a spectacular boat ride along the Saxon Wine Route. You can take the historic paddle steamer directly from Meissen to the Elbe villages Diesbar and Seusslitz.
The villages of the Saxon Wine Route
Pirna
Dresden
Radebeul
Weinböhla
Niederau
Coswig
Meissen
Diera-Zehren
Diesbar-Seusslitz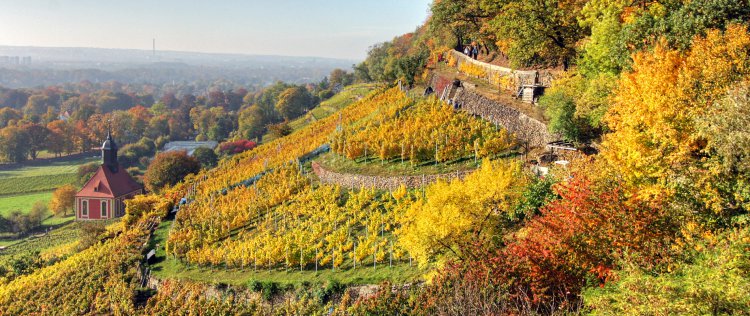 Book your Holiday on the Saxon Wine Route.